South African and UK-based startup Hyperion Development, which runs the largest online course platform for programming and Computer Science education in Africa, was announced as the Innovation Challenge Award Winner in a recent press release from Facebook.
This builds on a funding award and partnership that HyperionDev secured with Google earlier this year, making it the first South African startup financially backed and supported by both Facebook & Google.
The award, run through Facebook's Internet.org initiative in Africa, aimed to identify "leading examples of … online services that provide real value in the categories of education and economic empowerment".  Hyperion won the top prize in the category of education, and was the only South African company selected by Facebook. Facebook's Founder, Mark Zuckerberg, congratulated winners under the scheme in a recent Facebook post: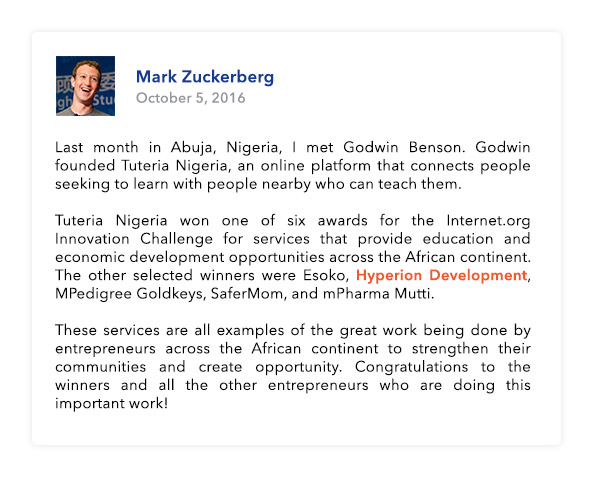 HyperionDev offers part-time, online courses in Software Development & Computer Science which pair students with 1-on-1 expert mentors and tutors from around the globe.
The organisation has rapidly grown to over 10,000 students from 20 countries, and offers a range of introductory and advanced courses in everything from web development to data science and mobile app development. HyperionDev is already one of the largest trainers of popular programming languages such as Java and Python.
Riaz Moola, HyperionDev's Founder & Director, said that "The Innovation Challenge Award will allow us to scale our offerings more rapidly and internationally, accelerating the growth of what is already a profitable and socially impactful business. We're excited to work with Facebook and Internet.org to make software development education and careers open to all."
For each course that HyperionDev sells, the company offers one low-income or unemployed youth in Africa a free course. This is critical in African economies such as South Africa, where youth unemployment stands at over 54%. HyperionDev's paid and free courses allow students to access high-paying careers in the field of software development through the HyperionDev Careers platform, bypassing traditional university education.
HyperionDev – which operates out of offices in Cape Town, Johannesburg, Durban, and Cambridge – also hopes to finalise additional grant funding from Google, CapaCiti, The South African Department of Science and Technology, and the TK Foundation to bring the total amount raised to R7 million.
To take a course with HyperionDev and support education in Africa, visit www.hyperiondev.com.