Many people complain about South Africa being behind the times technologically. In many senses, this is an accurate description; our average internet speed is over seven times slower than the average speed of our UK counterparts. Adding insult to injury, our leading ISPs shout about 10Mbps ADSL as if it's actually faster than that carrier pigeon with an SD card strapped to its leg.
Despite this perceived 'barrier to innovate', South Africans have done exactly the opposite: they've pioneered world-changing technologies from the bottom of Africa – and this article is about one such man. He was influential in building the first company outside of the US to offer SSL signing, amongst other noteworthy achievements. What's more, the OS which I'm currently writing this piece on, has become the world's 3rd-most used desktop operating system, and was founded by this South African visionary. I'm speaking of course about Ubuntu Linux, and Mark Shuttleworth.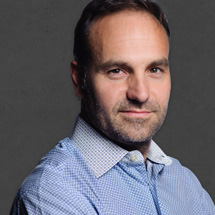 South African Roots
Born in the Free State town of Welkom in the '70s, he attended the Capetonian Western Province Preparatory school, all whilst holding onto his dream of going to space one day. He apparently held onto this idea whilst studying for a Business Science degree at the University of Cape Town. During this time, he was involved in the first installation of residential internet at the university.
His passion for the world of the internet was solidified in 1995 when he founded Thawte, a company that aimed to provide SSL certificates and act as a certificate authority for online companies looking to secure their clients' information, protect e-commerce transactions and verify their own authenticity. The US companies aimed within their country's borders, whilst Thawte became the de facto SSL certificate authority for non-US nations, quickly earning it a 'market share' if you will, of close to 40% . It's important to remember that every time we access out Internet Banking, or buy some great discounted product from our favourite online store, or grudgingly hand over more of our personal details to an ISP or mobile provider via their portal, this information has to be SSL secured; companies like Thawte play the role of verifying the SSL certificate authenticity. That little green lock icon in your browser's title bar? It's Thawte telling the browser to let you know that the site you're at is OK security-wise.

This icon in your browser URL bar tells you there's a valid SSL certificate ensuring your stuff is safe.
Venture Capital, the Shuttleworth Foundation and Debian
Shuttleworth wasn't content with founding a company that, in 1999, was acquired by VeriSign and earned him the equivalent of R3.5 billion, and some time later, in 2000, he founded a venture capital firm, HBD Venture Capital. Sassy "Here Be Dragons" acronym aside, the company's investment portfolio in Southern Africa is now managed by Knife Capital, which aims to invest in technology-driven ventures in the region.
Mark concurrently got involved with development of Debian, a Unix-based open-source Linux distribution that's, in technology terms, almost part of the furniture, with its first stable release being over 22 years ago. This could have been the catalyst he needed to begin his pioneering work in free and open-source software (FOSS), as in 2001, the Shuttleworth Foundation was born, the brainchild of Mark.
Toasting More than just Achievements
Apart from philanthropic social innovation causes, the Foundation was also very involved with supporting and promoting operating systems that were essentially free. Free to use, free to contribute to, and free to distribute. Student readers: you've probably seen those orange "Freedom Toasters" around your campus, dishing out CDs and DVDs of Linux distros and other free software on demand, right? Those were pioneered and funded by the Shuttleworth Foundation. Today they've got many different guises and purposes beyond just Linux distros, but the aim is still FOSS for all.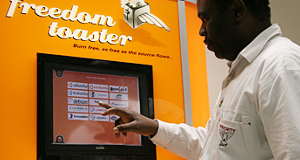 The Freedom Toaster device that burns free Linux distro's.
Ubuntu goes Global
2004 was the year that marked the launch of Canonical Ltd, and Ubuntu, the product which will embed his name into the minds of many worldwide. The Ubuntu Linux distribution was "Linux for human beings" as he put it, and was built on top of Debian to be an operating system your average Joe (read: Windows user) could use. This was an important aim for Mark, because Linux had previously mostly been relegated to grizzled sysadmins who could spout bash commands at will. Ubuntu Linux aimed to be the software that changed that, and apparently, it's gone quite far in this aim: it's now the world's third most-used desktop operating system (after Windows and Max OSX). Let's not forget, #1 and 2 are closed-source and expensive to buy…Ubuntu is free, and available for download here.
Ubuntu's legacy has moved beyond just desktops, and last year OEM's BQ and Meizu, in association with Canonical, released devices running the Ubuntu OS for phones. The somewhat clumsily-named BQ Aquaris E5 HD, BQ Aquaris E4.5 and Meizu MX4 devices are affordable and empower, to use the South African cliche, the spirit of Ubuntu. They're not market-leading by any means, but they're certainly great value for money.
First African in Space
Now what of Mark and his dream for space? That dream became a reality in 2002 when he became the second ever self-funded space tourist to end up on a spaceflight to the ISS, and the first ever African, and South African (dubbed "Afronauts") in space. Paying about R285 million for the privilege was nothing to sneeze at, but again, Shuttleworth used the opportunity to conduct HIV and stem-cell research whilst onboard the ISS. He also got a chance to speak to Nelson Mandela, and received a wedding proposal from a 14-year-old. All in a day's work, right?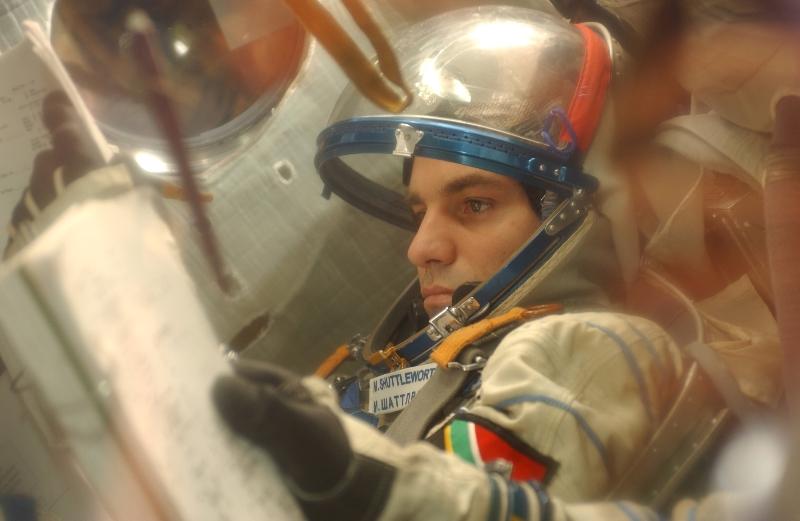 A photo of Shuttleworth taken while he was on the ISS.
The Price of Riches
As for later life, Shuttleworth remains committed to the FOSS movement, and the Ubuntu project he set in motion, despite no longer being CEO at Canonical. He now lives on the Isle of Man and holds dual-citizenship between South Africa and the UK. That latter destination did get him into some legal hot water last year, when he attempted to move R2.5 billion in capital to the Isle of Man, and the South African Reserve Bank immediately tried to slap a R250 million levy on this. He appealed, and some legal scuffling later, emerged victorious, while a red-faced Reserve Bank was forced to pay him the R250 million back plus interest.
Shuttleworth is a name we'd like to attach to South Africa. He pioneered a hugely successful free OS, founded a security firm, put South Africa on the map with regard to space travel, and still makes a meaningful contribution to the free software movement around the world, and at home. South Africa is just as full of innovation – it just needs to be uncovered and driven.
Ubuntu is available for free here if you'd like to install it or give it a try. Comment with your views on this article in the comments section below, and follow Hyperion Hub developments in the future if you'd like to see more articles like these for the South African market.