If you're interested in attending a coding bootcamp to become a developer but you can't manage full-time, should you consider a part-time online bootcamp instead? Probably. Here are some benefits of studying programming online and part-time.
1. Time
Time, as they say, is money: the sooner you get up and running, the quicker you start earning a developer salary. A degree, on average, takes three years. However, you can potentially complete a part-time online bootcamp within six months.
In the US, according to Indeed, web developers can expect to make an average annual salary of $78,631 (this estimate is based on 53,019 anonymously-submitted salaries to the site). Studying for two-and-a-half extra years will result in a loss of $196,577, and that's without taking into account the effect of salary increases! You want to get up and running with your new skills as soon as possible.
2. Flexibility
One of the biggest benefits of online learning relates to flexibility. You get to fit in your work around your other obligations. This means that you can carry on working and earning money while studying. You can schedule your studying and calls with your personal mentor for evenings or weekends. It's a really big advantage to maintain your monthly income while enhancing or changing your career. It also means your risk is much lower and once you've gained the skills, you can start applying for other jobs while still being employed.
Flexibility holds a major appeal for non-traditional students. According to a report from the American Council on Education, which was quoted in Ed Tech magazine, non-traditional students tend to be older than 25, working full-time and, financially independent, with some of them likely to be parents. In essence, they are early- to mid-career adults seeking career growth or change – and they are the ones who value flexibility the most.
3. Affordability
When it comes to cost, there is obviously a wide range. A face-to-face bootcamp in the US costs in the region of $9,000 to $21,000, with an average of $11,451. For a 4-year computer science degree, the average cost is $157,760. You can enroll at an online coding bootcamp for as little as $3000. Of course a self-guided or Massive Open Online Course (MOOC) is likely to be cheaper, but the depth of content is probably not sufficient for a career change. However, if you're keen to develop a targeted new skill (and not necessarily a career change), for example honing your Excel skills, a MOOC might be the way to go.
Despite the cost of an online course, you are likely to reap the rewards. After surveying reports from 73 qualifying coding schools, Course Report found that 80% of graduates were employed in a job that utilised the technical skills they learnt in a bootcamp. The average salary increase was 50,5%, which equated to $23,724 extra per annum. The average post-bootcamp salary was $70,698.
4. Daily Support or Mentorship
One of the key advantages of online bootcamps, and what sets it apart from face-to-face instruction, is the ability to support the learning via mentors. 'Mentorship,' says Chris Myers, a start-up founder and CEO of a financial management solutions company, 'is the best path to career success, hands down.'
Coding mentors are particularly helpful, because they:
Teach coding best practice – a mentor helps you avoid common stumbling blocks and learn best industry practices.
Constructive feedback – mentor feedback should be specific, timely, understanding and positive.The faster you receive feedback on your code submissions, the better.
Individual attention – Mentorship is 1:1 personalised feedback. This is very different from massive lectures or classes, where one can quickly lose track of what the lecturer is saying.
5. Placement Rates
Coding bootcamps, and this includes online and face-to-face programs, are viable options for filling the tech shortage. A 2017 survey, conducted by Indeed, found that 72% of employers think graduates from bootcamps are 'just as prepared' as degree holders to be high performers.  In fact, 12% of employers think bootcamp graduates are more prepared and more likely to be high performers than those with computer science degrees.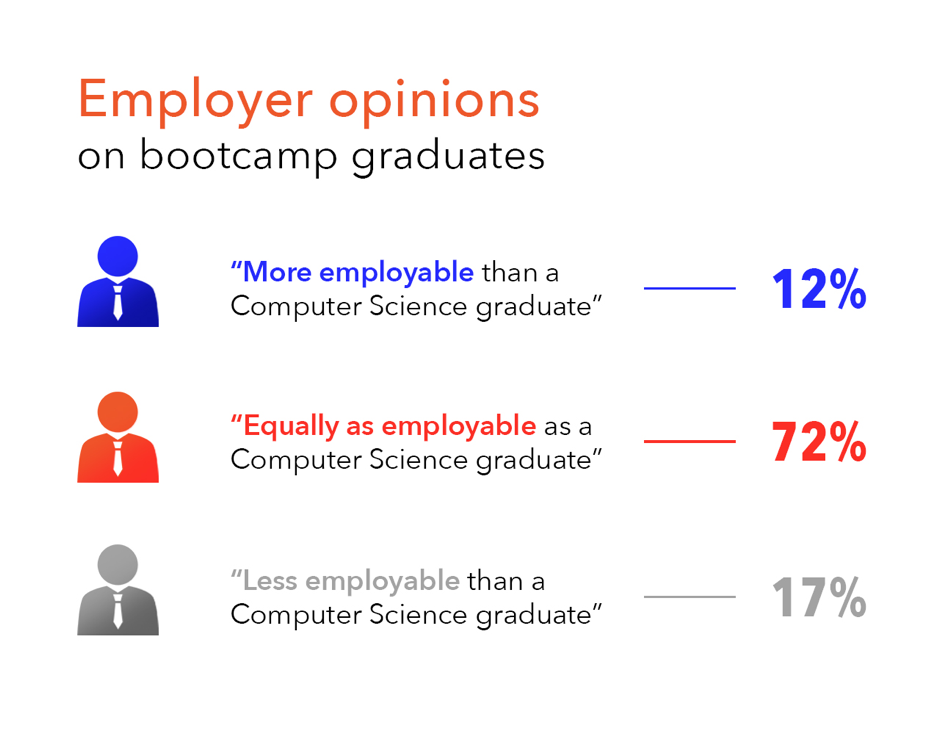 Source: http://blog.indeed.com/2017/05/02/what-employers-think-about-coding-bootcamp/
Check out HyperionDev Success stories to see how students have been placed after completing a coding bootcamp.
It's clear that the advantages of a part time online bootcamp – including compactness, affordability, flexibility, mentorship and high placement rates – are truly powerful. Almost everyone finds some of those benefits especially attractive. Which of them are most appealing to you?