Before you enrol on a coding course, you surely want to know whether you'll get a job after a coding bootcamp. So what do prospective employers really think about bootcamp graduates? And, before enrolling on a bootcamp, what research should you do about the institution to assess whether they are set up to help you land your first job? Read on to find out.
What Do Employers Think of Bootcamp Graduates?
To get a job after a coding bootcamp, prospective employers need to view your skills in a positive light, especially when compared with those of individuals who have studied four-year degrees at Colleges or Universities.
The good news is that Indeed, a well-known job site, conducted a survey of over 1000 Human Resource managers and technical recruiters at US companies. Their findings: a whopping 72% of graduates from bootcamps are 'just as prepared' and likely to be high performers as those holding degrees. In fact, 12% of people surveyed thought bootcamp graduates are more prepared and more likely to be high performers than those with Computer Science degrees.
Here's the graph showing the results: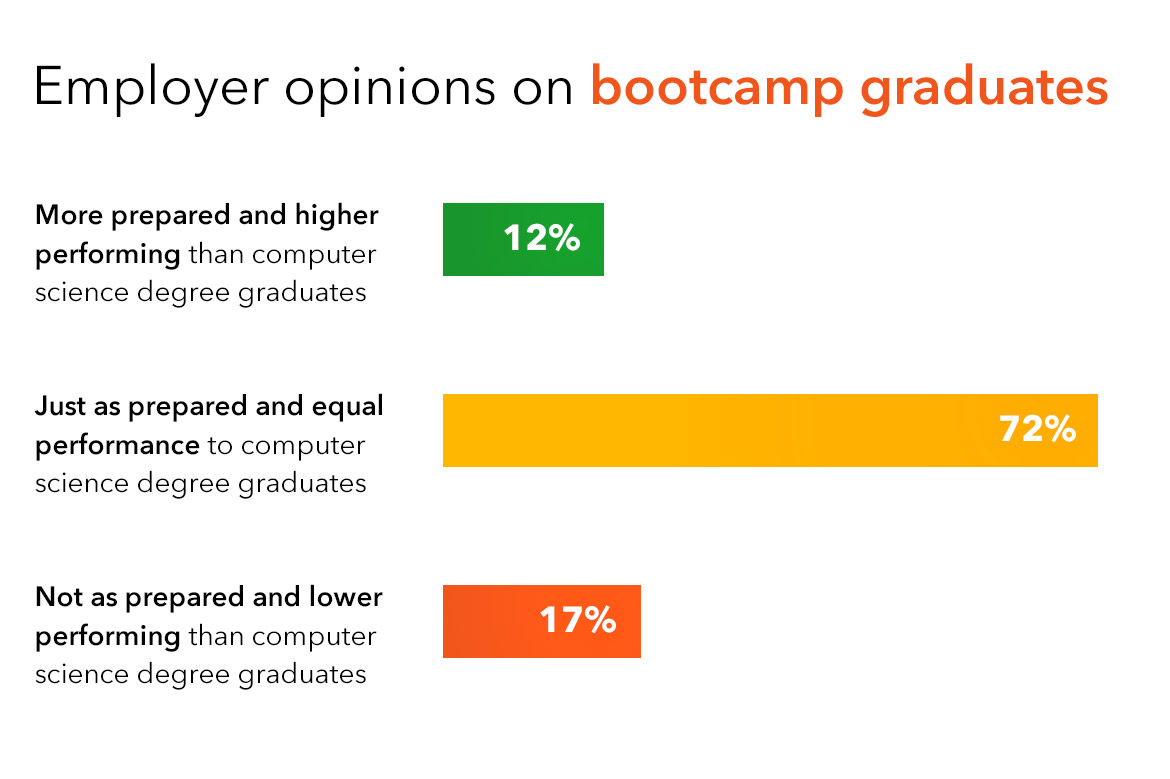 Image Source: http://blog.indeed.com/2017/05/02/what-employers-think-about-coding-bootcamp/
There's more: besides bootcamp graduates filling the supply-demand gap, they also assist in making companies more diverse. In another Indeed study, 1002 people working for tech companies were interviewed about diversity: '77% of respondents say it is very or quite important to have a diverse company'. And 51% of the companies surveyed saw the hiring of bootcamp graduates as a way to employ underrepresented groups.
To get a job after a coding bootcamp seems totally likely from the employers' perspective, now what about the bootcamp itself? What should it be doing to increase your employability?
The Bootcamp Experience
The support and resources available at an online coding bootcamp are integral in helping you land your first tech job. Here are things you should look out for:
Is there a career support service?
If so, what's on offer – are you, for example, linked up with prospective employers and / or internships?
Will the bootcamp help you draw up your best CV and prepare for a technical interview? The tech interview process can be a minefield, because your technical knowledge is frequently tested with hypothetical-type situations and quizzes.
Amiya Sharma, Head of Mentorship at HyperionDev, says: 'To help our students successfully change careers into tech, we provide career support during and after the bootcamp. This includes helping students prepare a technical CV and portfolio, guiding them on facing interviews, assisting them in networking within the tech community, and referring them to our hiring partners for jobs, projects and internships.' Check whether your prospective bootcamp offers the same service. You may want to speak to former students, or look out for coding bootcamp's student success stories, to get more information.
What Can You Do To Get a Job After A Coding Bootcamp
Both the services offered by your bootcamp and the attitude of prospective employers is integral in landing you your first job, but there are also many things you can do to increase your chances of employment success.
Here are some strategies:
Start embracing your new identity as a coder. Put up small projects on GitHub, a software development platform that allows you to manage your coding projects. Employers could well check out your GitHub profile before hiring you. Read more about GitHub here.
Network with as many people as you can, both face-to-face and online. Set up your LinkedIn profile. Attend any tech meetings or hackathons in your area.
Learn to use Stack Overflow, which you will most likely use for research and to get solutions to your programming problems.
Meet with a few recruitment agents to get the lie of the land – for example, what tech jobs are in high demand in your area? You may be able to work some of these skills into your bootcamp or GitHub projects.
Conclusion
Tech jobs are in high demand. You can certainly get a job after a coding bootcamp if you enrol at the right coding bootcamp and if you start networking (and setting up your online profile) early in the process. To find out more about HyperionDev's mentor-led online coding bootcamps, check out the courses here.