There's never been a more exciting time to be entering the workforce as a techie. Whether you're into software engineering, web development or the data analysis field, if you know something about the technical world, your prospects of building a long-lasting career are higher than ever. The prevailing employment trends in the US are predominantly reflective of the current global environment, and so a recent study by Indeed looked at the top entry-level jobs in the US for 2018. Part of the report included a "popularity index" score, which illustrates the popularity of a particular job amongst entry-level job-seekers. The results spoke volumes. Engineering and tech jobs are evidently amongst the most sought-after jobs in the US, followed closely by jobs in a few rather surprising industries. Let's take a closer look at the findings.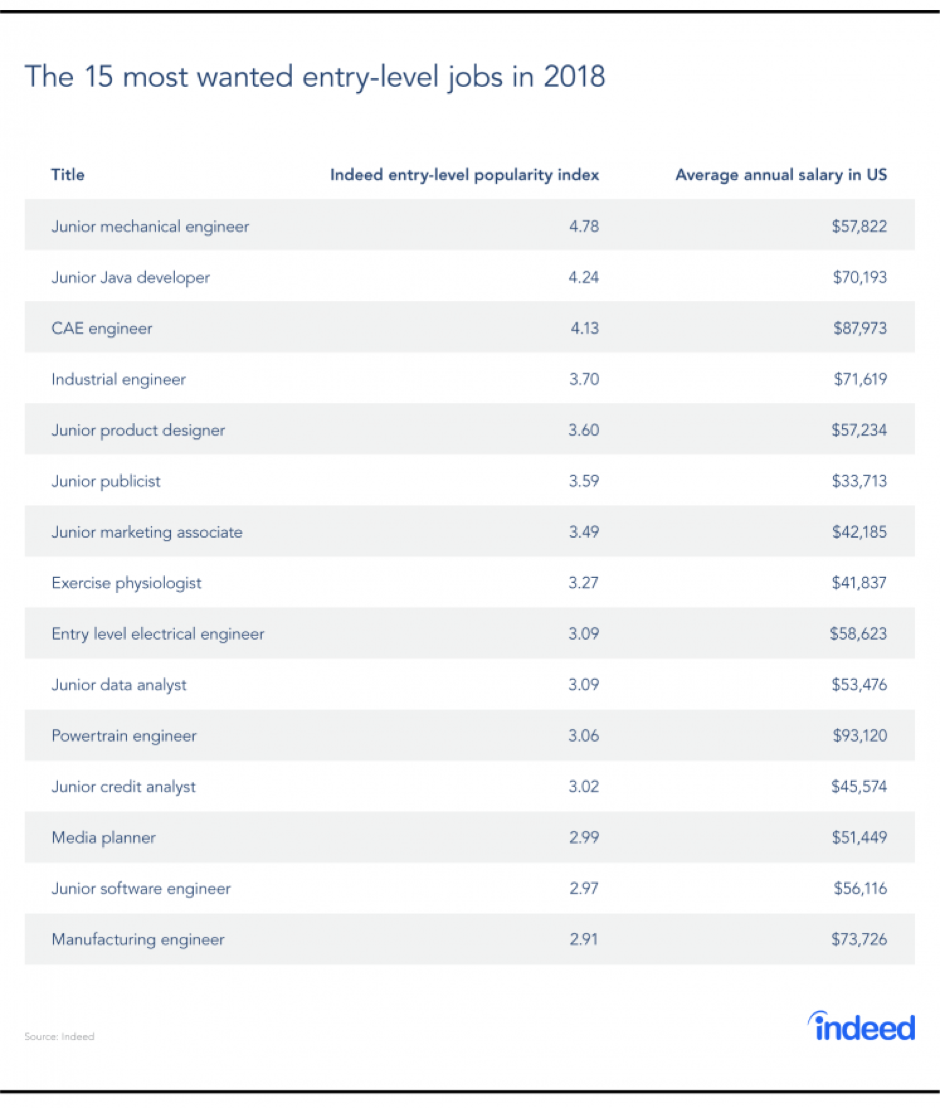 Source: Indeed
The Two Most Popular Entry-Level Tech Jobs
Among the top 15 most wanted entry-level jobs in 2018, we've chosen to hone in on two of the most pertinent in terms of technical skill.
Junior Java Developer
Java (not to be confused with JavaScript) is up there with the top programming languages in the world. For many developers, it is the catalyst for a flourishing career. Indeed puts the average salary for a Junior Java Developer at $70 193. A number of other sources agree. According to ZipRecruiter, "A Junior Java Developer annual salary ranges from $25,000 to $102,000 nationally." This puts the national average at $72 698. Number of years in the industry, relevant qualifications and experience play a big role in determining where you'll fall on the scale. As a Junior Java developer, you will collaborate with other software engineers and web developers to build applications, websites and software products through a complex process of problem-solving. Java developers are involved with the entire development life cycle of a product, so their skills are highly sought-after in a range of different contexts. According to technojobs, some of a Java Developer's main roles and responsibilities include:
Conducting software analysis, programming, testing and debugging

Developing, testing, implementing and maintaining application software

Recommending changes to improve established java application processes

Developing technical designs for application development

Developing application code for java programs
Junior Software Engineer
In summarising the role of a software engineer, Try Engineering provides this description: "Computer software engineers apply the principles and techniques of computer science, engineering, and mathematical analysis to the design, development, testing, and evaluation of the software and the systems that enable computers to perform their many applications." The average salary of a Junior Software Engineer is $56 116 according to Indeed. According to ZipRecruiter, this average is a bit higher, coming in at between $30,000 to $90,500 nationally, making the national average $63 606.
There are a range of different kinds of software engineers from computer applications software engineers to systems software engineers – each fulfilling a specific role that involves strong programming skills as well as a penchant for mathematical problem-solving and data analysis. As Robert Walters puts it, "software engineers are innate problem-solvers, good at collaboration and keen to see an issue through to successful completion."
According to Monster, these are some of the responsibilities of a software engineer:
Determining operational feasibility by evaluating analysis, problem definition, requirements, solution development, and proposed solutions

Documenting and demonstrating solutions by developing flowcharts, layouts, diagrams, charts, code comments and clear code

Updating job knowledge by studying state-of-the-art development tools, programming techniques, and computing equipment; participating in educational opportunities; reading professional publications; maintaining personal networks; participating in professional organizations

Providing information by collecting, analysing, and summarizing development and service issues

Developing software solutions by studying information needs; conferring with users; studying systems flow, data usage, and work processes; investigating problem areas; and following the software development lifecycle
The Most In-Demand Skills of 2018
Interestingly, a 2018 report by Linkedin demonstrated once again that engineering and tech are at the top of the charts when it comes to the entry-level playing field. Check out this list of the most in-demand skills needed by companies in 2018.
Cloud and Distributed Computing

Statistical Analysis and Data Mining

Middleware and Integration Software

Web Architecture and Development Framework

User Interface Design

Software Revision Control Systems

Data Presentation

SEO/SEM Marketing

Mobile Development

Network and Information Security
Not only are engineering and tech jobs amongst the most popular, they are also significantly lucrative. Companies need skills – skills to differentiate them in a market that is made up of a few huge players and millions of smaller players all vying for a position amongst the greats. The encouraging thought for entry-level job-seekers is that while in previous years it would take years to develop the skill-set to thrive as a developer, these days, it's not necessarily the case. As the Zuckerbergs of the world continue to demonstrate, a dedicated investment into honing your skill through practice, self-empowerment and a smart, proactive approach to education is what it takes to make it big in an industry that's waiting to embrace raw talent and sheer determination.
Thinking of starting a career in tech? We can help. Try one of our bootcamps – we'll give you the fuel you need to get your coding career off the ground.