If you want to learn to code and start your tech career, you've no doubt been flooded with countless options in your search for the best way to do it. So, in this piece, we'll be comparing a HyperionDev bootcamp vs short course; what's the difference between a bootcamp and an online course, and which should you take? We'll explore the differences and determine which one is right for you.
Before diving into the details, let's take a high-level look at the key differences between a HyperionDev Bootcamp and an online short course.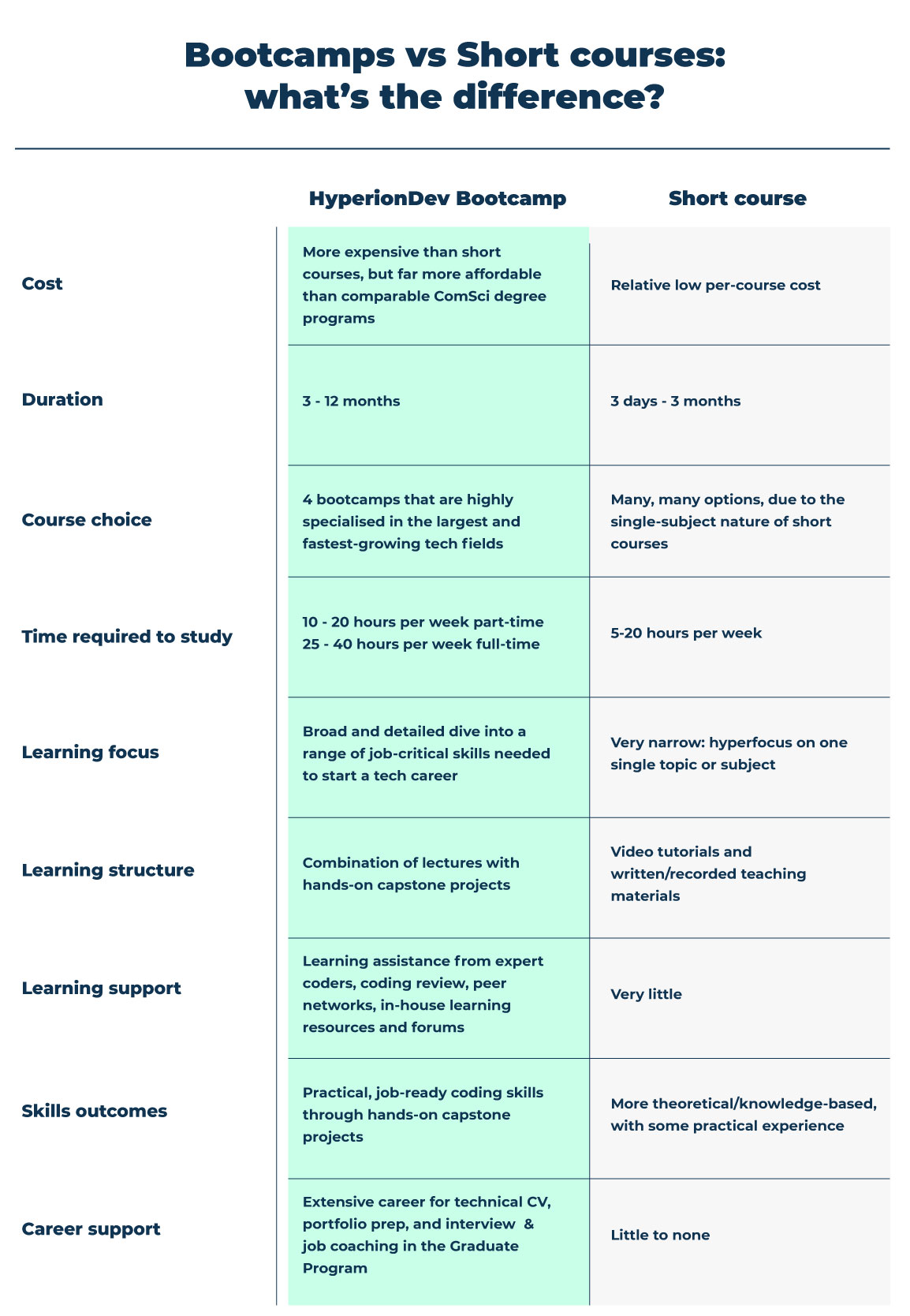 Learning and skills development: Bootcamp vs short course
There are many, many short courses out there, so it's difficult to pin down exactly what each one teaches. In general, the focus tends to be more narrow and focused on one specific skill. A short course might teach you HTML, or database management through SQL, or how to style your web pages in a certain way through CSS – but it will typically teach only that one subject, with little to no overflow into areas covered by other, topic-specific short courses.
Coding bootcamps, on the other hand, teach a far broader range of technical skills that range from entry-level functions to more advanced techniques. This wide range of subjects usually features several hands-on exercises and practical capstone projects, aimed at helping students practice real coding techniques they'll be using in an actual developer job.
The aim of an online bootcamp, states Business Insider, is "to take in students with minimal coding knowledge and shoot them back out a few months later as employable software engineers". And that's exactly what HyperionDev's bootcamps do, and have done, for thousands of students [link to success stories page].
HyperionDev offers four coding bootcamps, each specialising in a highly in-demand area of the tech industry. These include:
Learning duration: Bootcamp vs short course
A short course is made for developing a specific skill, and so in general they're much faster to complete than bootcamps. Depending on their level of difficulty and their scope, a short course can take anywhere between 3 hours and three months to complete.
This usually means that in order to develop a well-rounded skill set you will need additional short courses, more time, and more money. For example, you might complete a short course in MongoDB – however to become a full stack developer, you'd need to take more courses to learn Express, React, Node.js, Linux, Apache, MySQL, or PHP to be able to do the job.
Bootcamps take slightly longer than a short course because they roll all necessary career-critical skills into one curriculum. Bootcamps can take anywhere from 3 months full-time for single-stream specialisations (e.g. web development or data science) to 12 months part-time for highly advanced, multi-specialisation bootcamps (such as our Immersive Full Stack Web and Software Engineer bootcamp).
That being said, bootcamps are still a faster way to develop tech skills than the traditional computer science degree.
Time and effort requirement: Bootcamp vs short course
Short courses are typically designed for module-centred learning in short, digestible bursts or for a relatively deep and concise dive into a single topic or area. This means that a short course will ask you to spend anything between 1 hour to 20 hours per week on them.
Bootcamps tend to require more time, due to their immersive, hands-on nature, and their progression from beginner fundamentals to advanced techniques.
At HyperionDev, bootcamp students typically require up to 20 hours a week for a part-time bootcamp, and up to 40 hours a week for a full-time bootcamp.
Learning structure and focus: Bootcamp vs short course
When it comes to the content that short courses teach and how they teach it, it's simple and hyper-focused. Short courses would cover all or most of a single subject or topic, teaching the most critical parts of that material.
This is great for people who have an existing skill set and want to expand it with specific new skills, taught as concisely as possible.
Similarly, short courses have a learning structure that sticks to the essentials, with very little supplemental material or additional learning outside of the core focus area.
This learning is typically done completely on your own and in short bursts, making it more suited to self-driven learners.
In contrast, a HyperionDev coding bootcamp focuses on a range of career-critical, job-ready skills. They start with the fundamentals of coding and other critical tech skills, and work towards increasingly more technical and advanced concepts. In this way, a coding bootcamp develops the well-rounded and extensive skill set that today's tech companies and start-ups are looking for.
Learning and career development support: Bootcamp vs short course
In general, coding bootcamps offer far more learning and career development support than an online course. Online courses focus purely on teaching the subject matter. They can be cheap, but that low cost comes at a price: many online short courses offer little to no personal learning assistance or support outside of their learning material.
In contrast, bootcamps feature multiple, rich layers of student learning support. At HyperionDev, for example, students get full access to a support network of expert code reviewers and access to a community of fellow peers who are on the same coding journey.
What's more, our student support doesn't stop at graduation: with our HyperionDev Graduate Program, graduates get extensive career development support, including technical CV assistance, help creating their developer portfolio, and detailed career and interview coaching.
---
If you're thinking about starting your career in tech, or switching careers to a highly-paid developer role, our bootcamps are the ideal way to accelerate your job-ready skills development and fast-track your career start. Our in-depth student assistance, expert code review, and focus on practical capstone projects equips our graduates with the critical software engineering, data science, and web development skills they need to start their careers.
What's more, we do it in a fraction of the time and cost of traditional computer science programs, and with all the intensive student support and career development assistance that many short courses simply don't offer.
Enrol in a HyperionDev coding bootcamp today!
Editors note: this article was originally published on Jan 11th, 2019.