At the end of 2020, Amy had just finished her Bachelor of Commerce undergraduate degree and was working at the i-store as a Sales Consultant. Amy knew she wanted to further her tech skills, and decided to enrol in a BCom Information Systems Honours degree at UCT.
As part of the entrance exam in early 2021, Amy was asked to answer a number of basic questions to gauge her competency. Simple enough, right?
The only problem was that she was required to hard-code the solutions to the questions. She says:
"At that point, I had never been exposed to coding and so could not complete the entry exam. I spoke to one of the professors and she recommended that I do a coding course and then re-enrol for the year 2022. I did the usual Google search for good coding courses/bootcamps and that's how I landed on HyperionDev."
Time to get coding
That's when Amy decided to enrol in a HyperionDev Full Stack Web Development Bootcamp. For Amy, her coding bootcamp was intended to be a slight detour en route to her Informations Systems Honours degree. However, it didn't quite go as planned.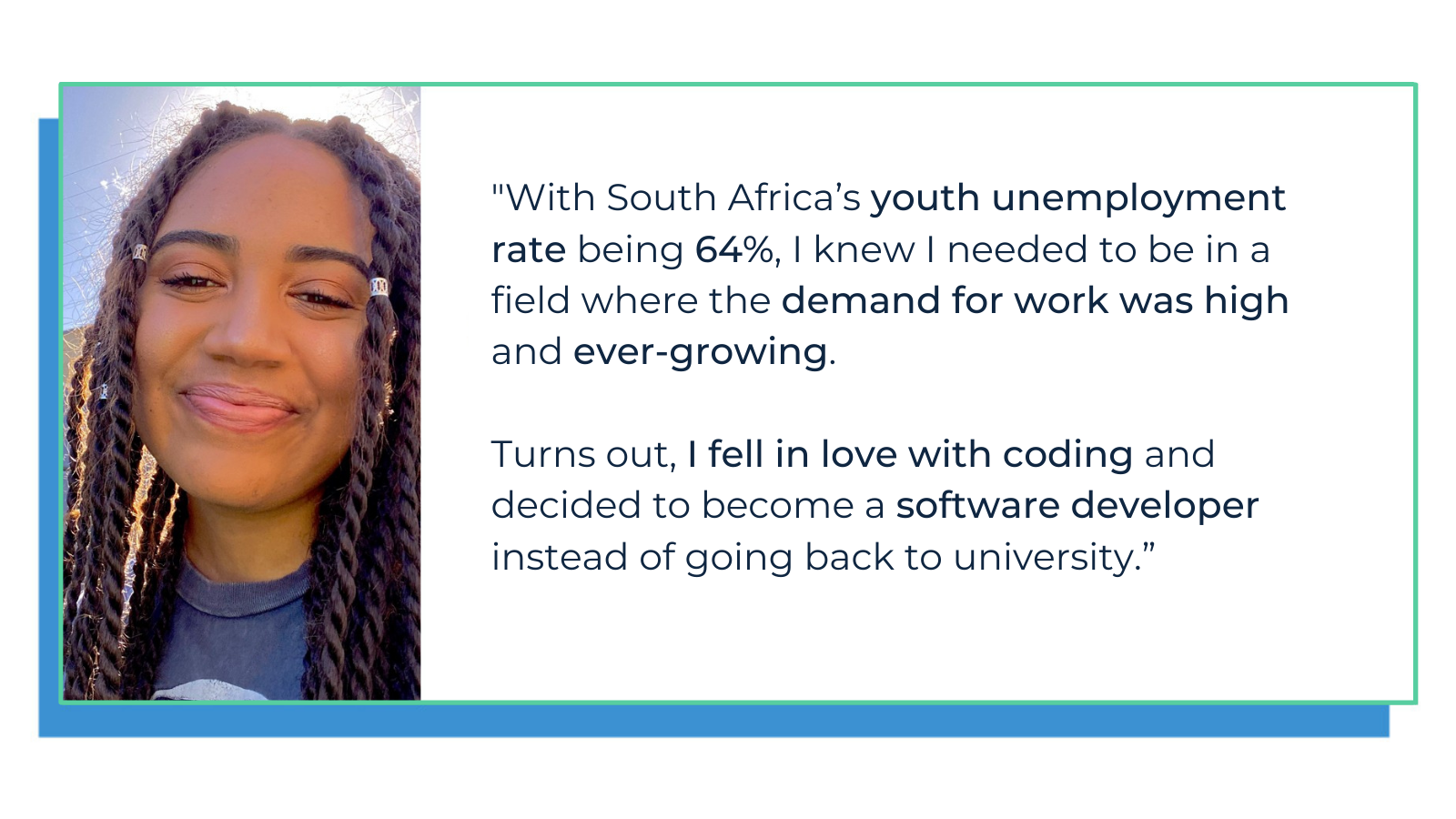 Amy tells us that the Full Stack Web Developer bootcamp really helped her become job-ready, in the sense that she was taught relevant and up-to-date material. She knew that she wanted to land a job that met the average salary on PayScale, once she completed the bootcamp.
Amy was able to meet all of these goals within the span of a month, post-bootcamp. Amy will be starting as a Graduate Software Developer at Mpilo Technologies in February 2022.
Taking flight through the HyperionDev Graduate Program
For Amy, she shares that the HyperionDev Graduate Program really helped her to prepare for her first tech job. She says:
"I believe the post-bootcamp support that HyperionDev offers is unmatched. Because of my really good LinkedIn profile, I was able to attract the attention of multiple CEOs and recruiters who then reached out to me to either set up an interview or to have me send through my CV. These CEOs and recruiters were from Cape Town, Johannesburg, and even Singapore."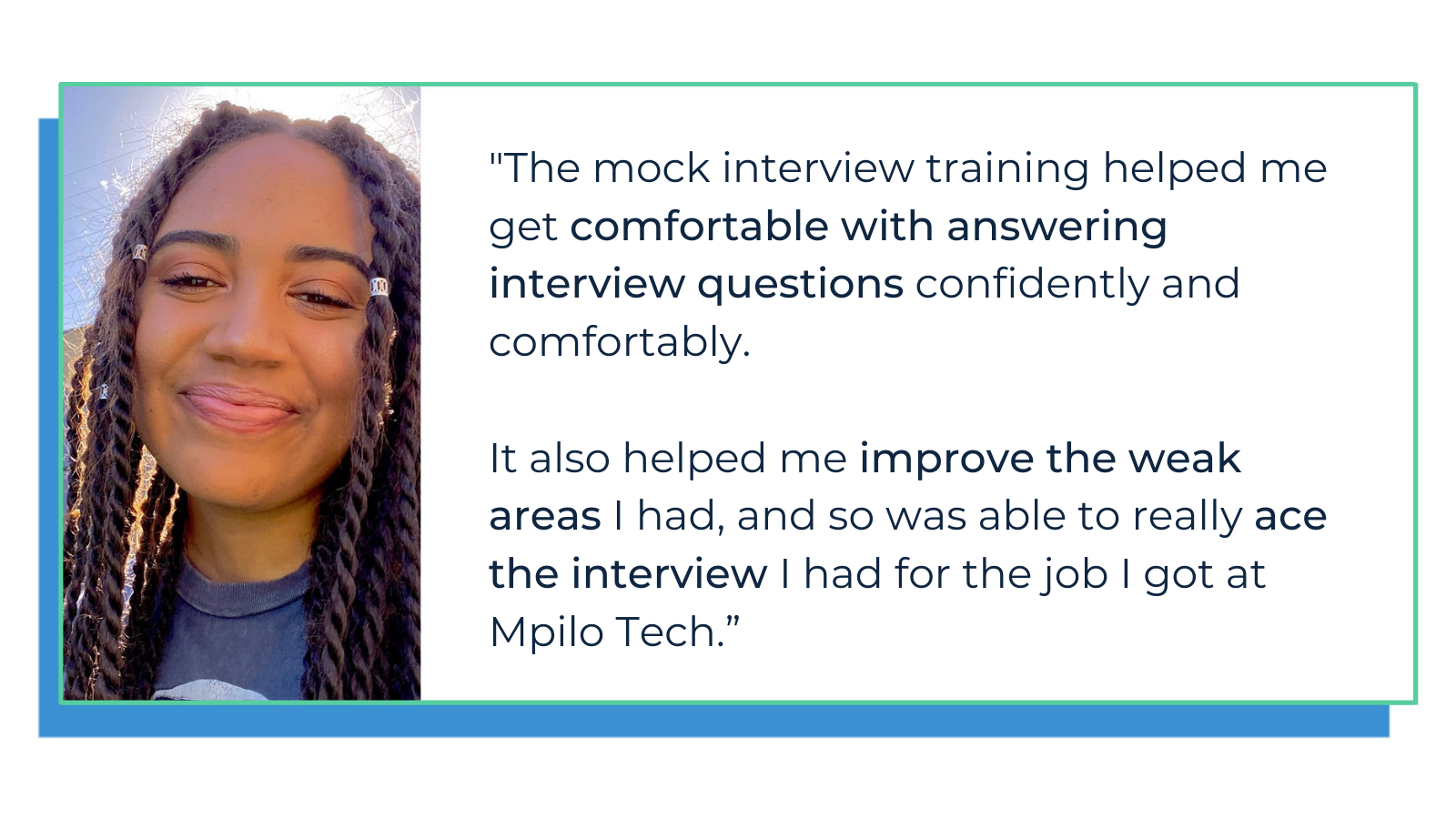 Looking back on her HyperionDev bootcamp journey, Amy is incredibly proud of everything she's been able to achieve.
"I naturally have a deep love for knowledge, so when I was able to successfully figure out a tricky task requirement I felt very fulfilled and optimistic. Being able to apply what I learnt in a specific task was a very fulfilling feeling. It's also always very fun for me to see how an idea can get executed into the browser and become a working application that people can use."
U

nlocking the power of code
Amy feels excited to work alongside individuals who also have a passion for software and web development. The tech industry is ever-growing and changing, and Amy looks forward to being a part of it to hopefully inspire other young South African girls to be part of this exciting and in-demand industry.
"I think code gives individuals the extraordinary ability to create what doesn't exist. Look at Facebook for example. That was simply an idea, but code is what gave that idea functionality. And now, we live in a world that quite literally revolves around the code people have built. Instagram, TikTok, Youtube, Twitter, LinkedIn, Google, robots, TV's, smartphones , smartwatches (and the list goes on) have all been built through code.

Amy hopes to inspire other individuals, especially young females in joining the tech industry. She explains that she likes to take things one step at a time. Within the next year, she'd like to be a prominent voice and face for aspiring young developers.
"Learning how to code has allowed me to find a new medium through which I can express myself creatively. Learning how to code and becoming a developer, has greatly improved my quality and standard of living. I am now able to help my younger brother achieve his own personal goal of starting his own business, by creating his website for him. It feels good to help the people I love, achieve their own dreams!"
---
Discover your own potential
Have you been thinking about learning to code, or following your passion for technology into a new career, just like Amy did? Industry-aligned coding bootcamps are the best way to become a job-ready developer in months rather than years – with an added layer of career development and job-search support.

Enrol now to join one of our online and on-site coding bootcamps, which will teach all the hands-on developer skills you need to do real developer work.