While there's no denying an all-round education obtained from a university is the perfect fit for some, many people don't have the time and money to go this route when learning to code. This has created a clear demand for more affordable, accessible, and effective learning models – such as bootcamps – that provide focused, intensive courses dedicated to teaching practical, job-ready skills at a fraction of the time and cost.
But are bootcamps popular, and are as effective as traditional degrees? Stats from CourseReport show a 306% growth rate in online coding bootcamp enrolment, with an estimated 79% of graduates finding a job in their field. HyperionDev beats that record, with almost 80% of our graduates getting placed in the tech industry within 6 months of completing a course with us.
We take a look at the practical benefits of bootcamps and how the outcomes compare to a traditional university education.
1. Graduation time
Most people don't have the time to dedicate to the three or four years required to graduate from university. Bootcamps, on the other hand, are intensive and often immersive training programmes designed to provide aspiring tech developers and professionals with the skills they need to code professionally and that forms the foundation to continue to learn as they work.
Globally, the standard bootcamp programme length is three months. However, whether you study full-time or part-time will determine the length, as will the amount of material learnt and the pace of instruction. 
2. Tuition costs
Students can expect to pay R66,000 for their first year of a three-year BSc Computer Science degree at a leading SA university. Add to that annual residence fees that start at R52,000, and it's clear this is not a path for all.
Coding bootcamps, on the other hand, are far more affordable than even the cheapest university, offering a range of payment plans, more accessible credit and lending, and they are more experimental with arrangements – such as income sharing agreements or free-until-you-work deferred payment systems – that would be far too risky for universities to adopt. 
3. Self-study requirements
There are three ways to learn to code and become a developer. Get a university degree, self-study, or attend a coding bootcamp. All are perfectly good paths to a career in tech – and all of them require some self-driven study. University students need self-study to put what they've learnt into practice. Others will try to learn coding from scratch themselves, without any structural support. But coding is a highly technical job entailing complex data structures and algorithms – despite what self-taught coders on YouTube say.
Bootcamps are seen as a more structured version of self-teaching. There's the benefit of a well-designed course with a clear goal combined with opportunities for students to learn from each other by, e.g. joining online communities and forums for coders where they can bounce questions and get advice on a variety of coding issues.
4. Learning outcomes
Ten years ago, you needed a Bachelor's just to get a foot in the door. Today, with the sheer overwhelming number of graduates out there, a bachelor's degree isn't the distinguishing accomplishment it once was. Simply put, many companies are increasingly preferring work experience and industry knowledge over college or university degrees.
Bootcamp graduates finish with a portfolio, an online presence, industry-applicable skills, interview skills, and more, often giving them the edge over their university graduate peers.
As former President Obama said, "It turns out it doesn't matter where you learned to code, it just matters how good you are at writing code."
5. Earning potential
Bootcamps were created in response to a huge global demand for skilled developers. Formal education systems cannot keep pace with the changing nature of work, resulting in many employers not finding enough workers with the skills they need.
Going to university will cost you more than just the fees you need to pay; you're also paying for the lost time you didn't spend working and the lost opportunity from not having those work years on your CV.
Here's what this might look like: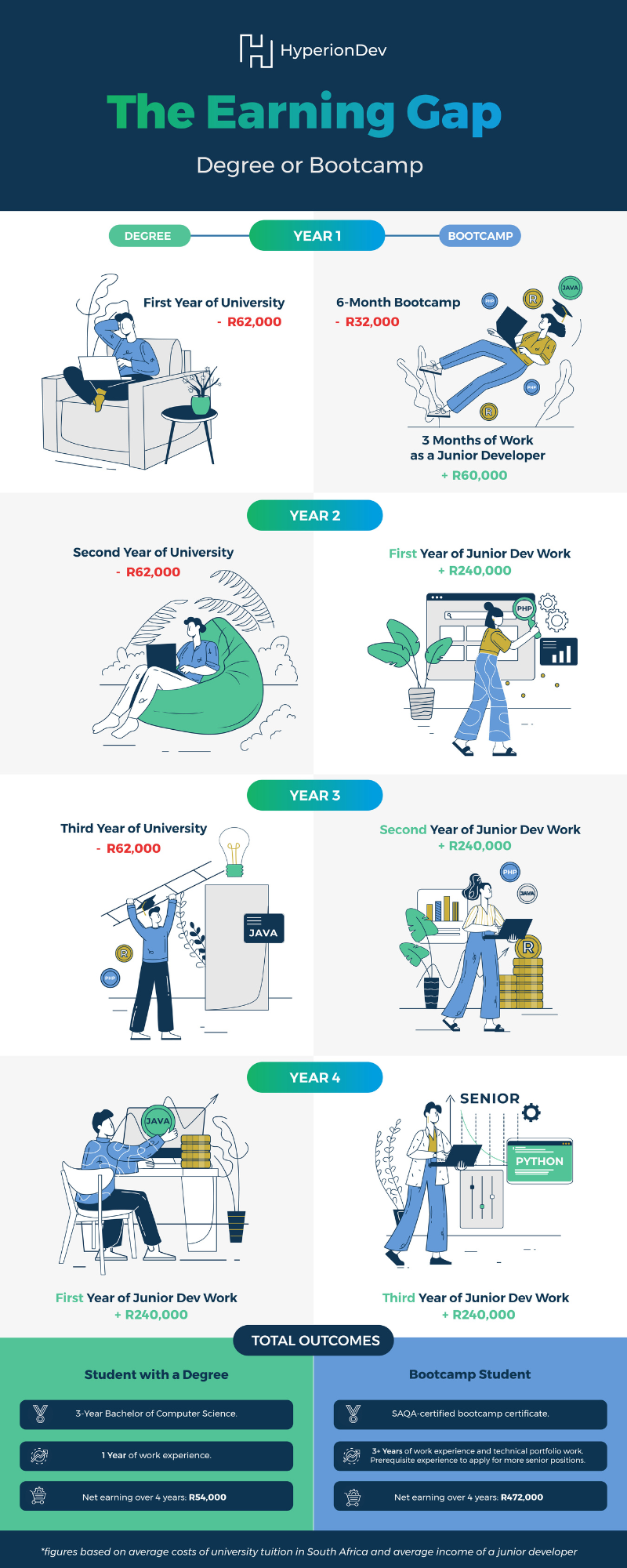 [Sources: Average Cost of University Tuition; Average Income of a Junior Developer]
In the world of work, a faster start to your career means greater opportunity and more time to earn, which directly equates to higher earning potential. Faster career progression and an early start to earning means bootcamps are the better choice for many. 
6. Location flexibility
A PwC report, the Voice of the Student Survey, showed that almost half of all South African students (49%) prefer virtual learning, while 38% prefer hybrid learning formats, and 13% prefer in-person classes. Yet, the higher education industry significantly lags behind the corporate world when it comes to digitalisation.
Traditional university education often requires in-person attendance, whereas bootcamps often provide a choice. While most bootcamps feature a predominantly online learning focus, HyperionDev also offers in-person courses in Cape Town and Johannesburg, meaning you can learn from anywhere at a pace that suits you. 
7. Personal mentorship
Most undergraduate degree programs will give you a weekly tutorial session and perhaps a course convenor you can chat with. One-on-one oversight is usually limited to the most advanced degrees or projects, for example, writing a thesis or dissertation.
On our bootcamps, you get 1-on-1 expert mentorship from day one. We believe that coding mentors are essential for your development and learning. Our mentors help you to learn coding best practices, give you constructive feedback, and allow for individual attention. 
8. Specialisation
Beginners starting out on a computer science degree usually learn the basics of programming over a wide range of applications. But what if this doesn't fit your tight work schedule, doesn't interest you, or you don't see it being useful in your future career?
On a coding bootcamp, you dive straight into your field of interest. You can focus entirely on learning the exact skills needed for your chosen career goal, be it software engineering, web development, or data science. Bootcamps are also practical, with capstone projects and code submissions rooted in real-world applications and business needs. Thanks to smaller classes and online learning, bootcamp students also tend to learn coveted soft skills such as teamwork, communication, and time management. 
9. Learning requirements
Universities are great places to have an extensive and detailed exploration of subjects you're passionate about. Unfortunately, there's one problem: the credits system.
To obtain a degree requires you to meet a minimum number of credits for your program. Often this means you're forced to take 'arbitrary' subjects just to meet your credits list. And while Organic Chemistry and Geometry are interesting, there's no reason you should be forced to take one of them for a year just to get your degree in Computer Science.
Bootcamps, in comparison, stick to a specialisation and teach core values for the job: you don't need to take unrelated subjects just to get enough credits to graduate. 
10. Theory and practice
Deep diving into theoretical concepts is useful and informative, but if you want to switch careers and have limited time and money, you probably don't have the luxury of spending four years doing exhaustive research. In this case, learning practical skills quickly – such as the ability to create working websites, programmes and data models – is far more valuable.
And that's what bootcamps do best. They don't require 4,000-word essays or 4-hour exams testing your memorisation skills; instead, they focus purely on job-relevant skills that you can use to find work and build real programs, websites, and applications. 
Join the 4IR
The Covid-19 pandemic drove us all online, but the Fourth Industrial Revolution (4IR) will keep us there. Evolving technologies and trends such as AI and IoT are changing the way we work, live, and learn.
Coding bootcamps, along with the expansion of university-bootcamp partnerships, are at the core of this acceleration – quickly showing their power and value to a public that wants a risk-averse, job-ready translation to a tech career.
—————–
Our bootcamps provide personalised 1-on-1 mentorship in a tightly structured learning environment that teaches you everything you need to know to start creating the next big app, amazing websites, and powerful machine learning or data algorithms in less than six months.
Apply now to start your journey to learning how to code and get the inside edge on starting your tech career.
Editor's note: This post was originally published on 02 September 2020 and has been updated on 03 November 2022.