Before switching careers, you want to be 100% sure your new career will offer you everything you want. That could well include a better take-home salary. If you're thinking of becoming a web developer, then the good news is that salaries are looking pretty good in the US in 2018. Before taking a closer look at 2018 US Web Developer salaries, here's a quick reminder of common web developer tasks. These include the following:
Test and document software for web sites.

Work with designers and people who produce content.

Write, modify, and debug software for web sites.

Write code to generate web pages, access databases and business logic servers.
2018 US Web Developer salaries 
In the US, according to Indeed, web developers can expect to make an average annual salary of $78,631 K (this estimate is based on 53,019 anonymously-submitted salaries to the site).
Of course experience is going to play a large part in determining the size of your salary, but the range is generally between $38,219 and $84,855. Here's how it pans out. Entry-level web developers (less than 5 years experience), according to PayScale, can expect an average annual salary of $51,000. Those with mid-career experience (5-10 years) will receive an average compensation of $64,000, whereas an experienced web developer (10-20 years of experience) could pull down $70,000 per annum. And if you have more than 20 years experience, your salary should be in the region of $82,000.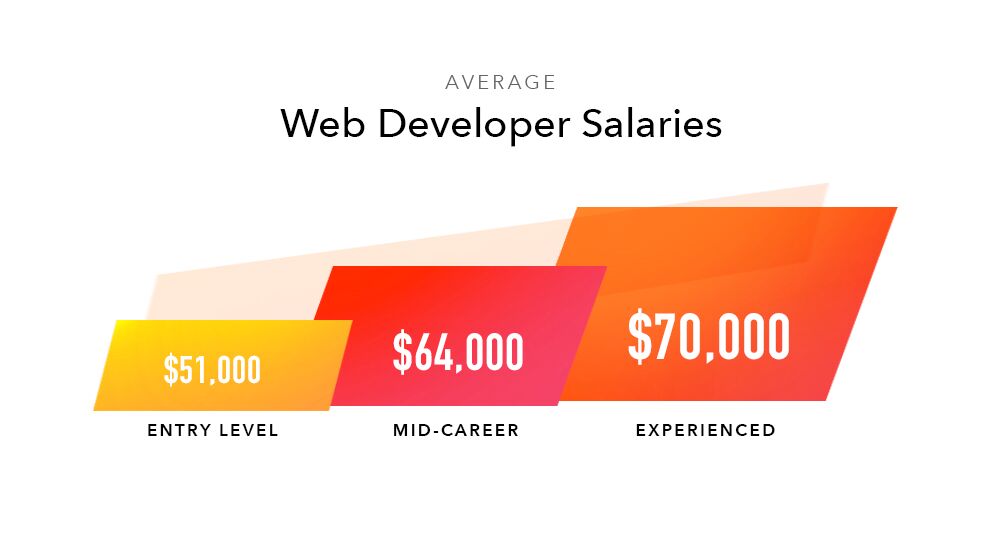 Glassdoor, which conducts millions of anonymous salary reports, released their US Web Developer salaries 2018 results. Web developers' median pay amount was $64,195. This means that 50% of web developers earned more than this amount (and 50% earned less). US median pay is $51,364 with 0.9% year- on-year growth. Year-on-year growth for web developers is at a whopping 2,8%.
2018 US Web Developer Salaries: Highest-Paying Companies
Unsurprisingly, the highest-paying companies in the US for web developers include the following:
2018 US Web Developer Salaries: Top Cities
According to the U.S. News & World Report, a global authority in rankings and consumer advice, the best paying cities for web developers are the metropolitan areas of San Rafael, California, San Francisco, and San Jose, California. The city of Framingham, Massachusetts, as well as the Seattle area also pay well. For these top cities, here are the average annual US web developer salaries 2018.
San Rafael, California: $109,620
San Francisco: $107,350
San Jose, California: $102,080
Seattle: $95,660
Framingham, Massachusetts: $89,620
Also, interestingly, web development ranked 8th in the Top Ten Best Technology Jobs in the U.S. News & World Report's 2018 job rankings table. Guess which job came out top? Software Engineering.
In summary, if you're looking for a lucrative career change this year, web development is definitely worth thinking about. It's also a career that is globally in demand, judging by this US Web Developer salaries 2018 analysis. HyperionDev offers a 6-month part-time Online Bootcamp in Full Stack Web Development. Book a free trial now!
<DID YOU KNOW?>
According to CNBC, the top-earning summer interns were at tech company Facebook. Glassdoor reports that they earned an average of $8000 dollars per month, equating to an annual salary of $96 000 (the average full-time working American makes $51,350 per year)!