Before switching careers, you want to be 100% sure your new career will offer you everything you want. That could well include a better take-home salary. If you're thinking of becoming a web developer, then the good news is that salaries are looking pretty good in the UK in 2018. Before taking a closer look at UK Web Developer Salaries 2018, here's a quick reminder of common web developer tasks. These include the following:
Test and document software for web sites.

Work with designers and people who produce content.

Write, modify, and debug software for web sites.

Write code to generate web pages, access databases and business logic servers.
UK Web Developer Salaries 2018

In the UK, according to CW Jobs, the average salary for web developer jobs is £47,500 ($66,396). The national average, reports Adzuna, is £33,780 ($47,218), so web developers are coming in a good notch higher. The median salary for web developers is £40,000 ($55,532) in advertised job vacancies during the last 6 months to the beginning of February 2018 – this means that 50% of advertised job vacancies are actually above the £40,000 salary mark!
What about year-on-year increases? They're on the up. Year-on-year pay for jobs in  web development have gone up 7,6% in the past year, whereas the annual change for all jobs is at only 2,5%. If you're looking for the highest web developer field to enter, you should probably look at contract work. The average web developer contract salary is £106,836 ($149,297) and in the last month alone, that salary has risen by 18 percent!
Here's an interesting graph showing salary and vacancy trends for UK web developers. Look at how average annual salaries have risen. Vacancies have shown some fluctuation, but have maintained about the 10 000 level, which is very positive news.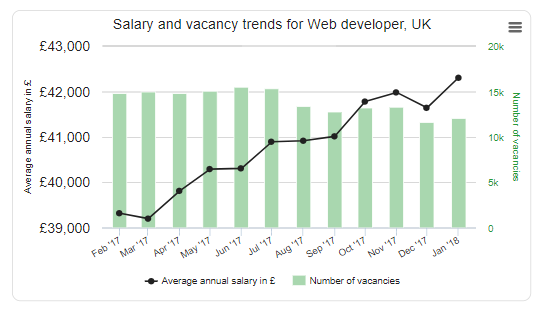 (Sourec: Adzuna) 

UK Web Developer Salaries 2018 by City
Where's the best place to work as a web developer in the UK? PayScale, unsurprisingly, notes that web developer salaries in London tend to be 24% above the national average.
Here are the highest paying areas for web developers jobs in the UK.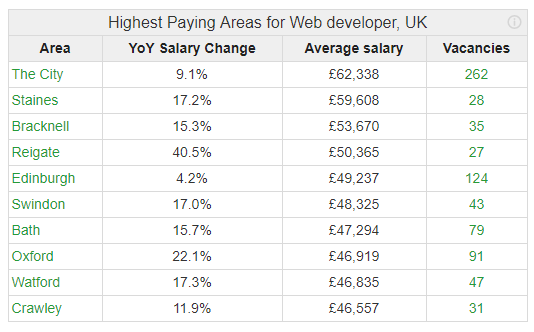 (Source: Adzuna)
In summary, if you're looking for lucrative career change this year, web development is definitely worth thinking about. It's also a career that is globally in demand. HyperionDev offers a 6-month part-time Online Bootcamp in Full Stack Web Development. Book a free trial now!
FUN FACT 1: UK Web Developer Salaries 2018
According to the Financial Times, salaries at banks for tech professional are even higher than at tech companies. Says the FT: 'In the UK, starting salaries for technology roles are higher at banks than at tech firms, according to data from the pay comparison site Emolument.'
FUN FACT 2: UK Web Developer Salaries 2018
If you want to check out your potential salary, have a look at Stack Overflow, which is a popular developer community. Not only does it offer a Q&A for coders, but it also has a new salary calculator that lets you work out what you should be earning as a result of variables like your role, location, education level, experience and areas of expertise. It's based on a survey that the company conducts annually with about 65 000 developers.
Find out more about web developer salaries around the world. Alternatively, read about online coding bootcamps and how you can become a web developer in your spare time.