Our bootcamps would not be what they are without the thousands of students who have come through them. They are everything to us; they are our focal point in our mission to bring affordable and accessible modern tech skills education to the world. Without our people, we'd fall apart.
Since joining our ranks almost a year ago, Student Progression Associate Tevin Pitts has led the charge on refining and revolutionising how we hear, support, and engage with our HyperionDev community. Tevin brings nearly a decade of excellence in customer service and support experience to HyperionDev, and it shows: he has driven hundreds of positive reviews and success stories, helped countless students with difficult problems, and recently won our Employee of the Month "Kudos" Award.
We asked him some questions about his professional experiences, what his job responsibilities are, and what it's like to work at HyperionDev.
What do you do at HyperionDev?
I'm a Student Progression Associate and I fulfill an integral role in ensuring the continued success of our fast growing student base.
What's the heart and soul of your role at HyperionDev?
Being the custodian of our Student Success Division is such a pleasurable experience. I've been working in the Customer Facing and Education sector for the past 10 years and along the way I've learned that understanding my client's needs, being consistent, honest and knowledgeable provides world-class service. It's always been my nature to assist, solve and help others progress. Having these contributing factors has allowed me to deliver tasks exceptionally well and support our students' progress at an adequate pace.

Making a true difference in the lives of our students motivates our Team to strive for excellence in everything we do. My colleagues aren't just my coworkers: I've made some good friends along the way.

At HyperionDev we believe that education shows us the importance of hard work and, at the same time, helps us grow and develop.
What motivates you to log on in the mornings?

Being praised for a job well done – and believing in the work I do – motivates me to log on to work in the mornings. I like knowing that I'm appreciated, because I give every deliverable my all, and I also like knowing that the work I'm doing is producing results that matter to people everywhere.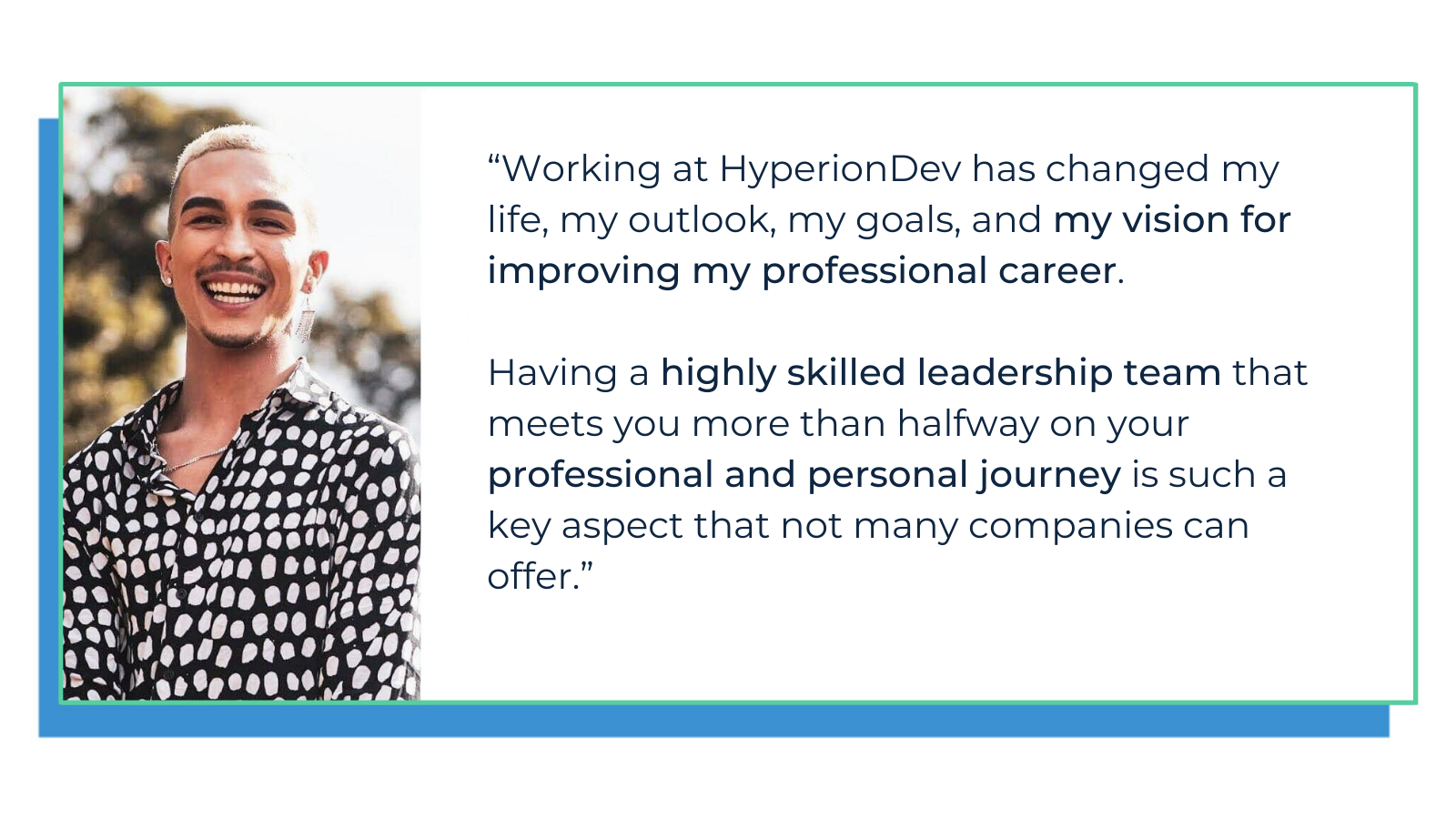 What do you enjoy most about working at HyperionDev?
There are so many wonderful things about working for HyperionDev. My favourite is probably the flexibility I have with my hours. I also love the company culture and enjoy working with a team of highly skilled and hardworking individuals. At HyperionDev we maintain a transparent work culture. The team is personable, professional, and strives for excellence, the rare type! What's great is everyone working at HyperionDev was meticulously selected to fit the company culture as this is an essential key to employee engagement, performance, and productivity.
Tell us a bit about your professional development whilst working with HyperionDev.

My journey at HyperionDev thus far has been ever-changing, I've been granted the opportunity to contribute to various interdepartmental processes and deliverables, from Student Success to Technical Support, and Education to Marketing.

There has not been a single day where I haven't learned something new. At HyperionDev, we are not only doing a day-to-day job but we are constantly learning, developing, and improving our departmental processes and personal careers.

Working for a company that values my input, allows me to share my ideas and creativity has surely taken me out of my comfort zone. There is no room for complacency! I'm inspired to always put my best foot forward and to think out of the box, not only for myself but for our students and the importance of their futures.
How do you ensure that you keep yourself upskilled + knowledgeable in your field of expertise?

As our working environment is also a learning one, it's essential that I constantly keep myself informed and updated with the latest tech tools and how to provide world-class service to our clients, students, and prospects. We live in a digital world and this allows me to get all the information I need right at my fingertips! In short: Taking professional development courses, the use of online resources, attending webinars that align with my field of work, and the insight from my seniors and mentors is such an important factor in helping me excel in everything I do at HyperionDev.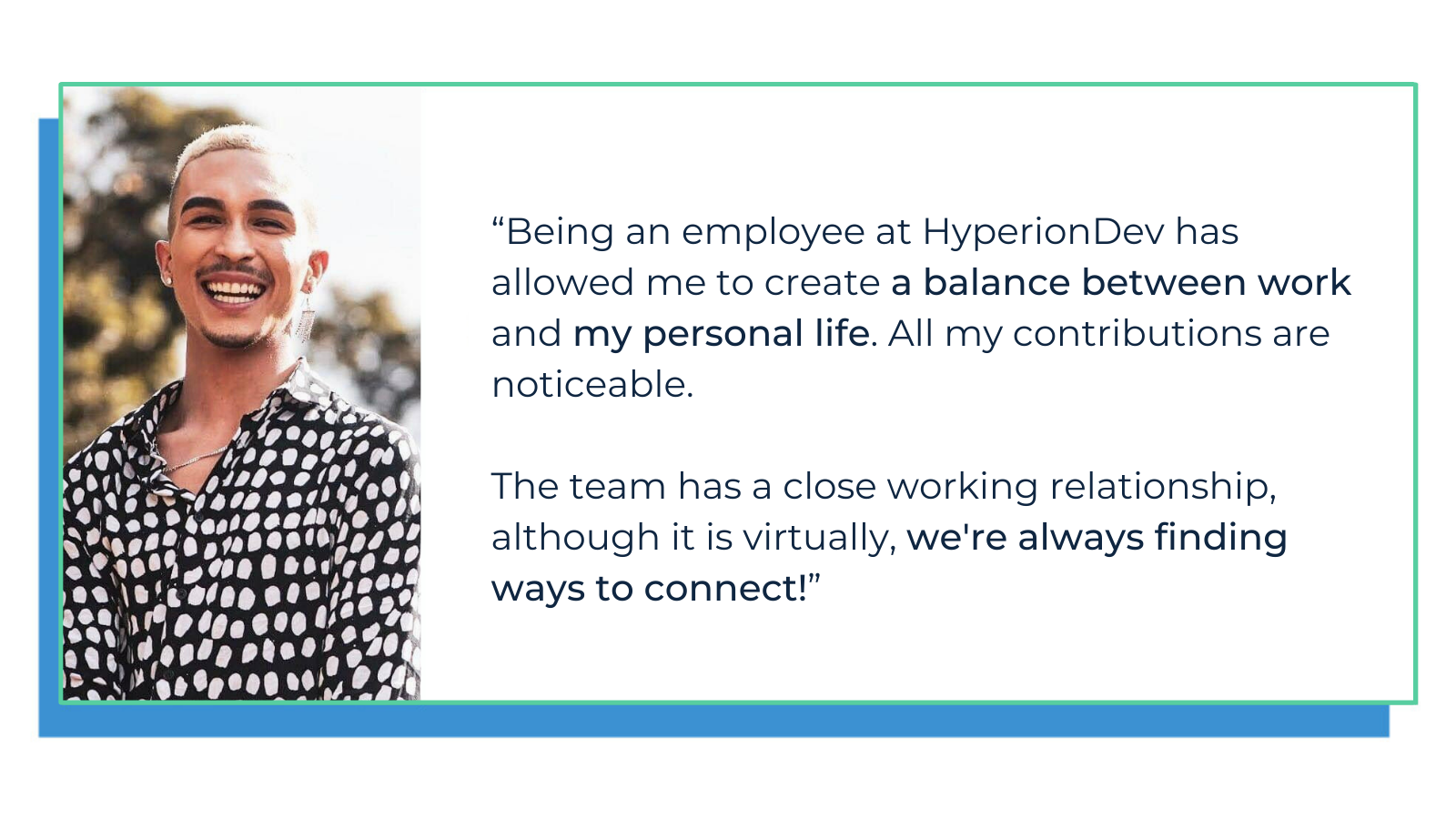 Which of HyperionDev's core values resonates with you most & why?

I would have to say the value of 'People First'. Happier employees work harder and smarter to achieve personal, departmental, and organizational goals.
What's a fond memory you have of working at the company?

At HyperionDev we celebrate many wins, and one of those wins was raising 200% + in our CrowdCube social impact investment crowdfunding campaign.

Also, being a couple of months into the company and achieving the employee of the month award (as we call it Monthly Kudos). This was a great achievement and being recognized at such an early stage within the company, was truly a remarkable feeling.
How is HyperionDev different from other places you've worked?

Working at HyperionDev has changed my life, my outlook, my goals, and my vision for improving my professional career.

Having a highly skilled leadership team that meets you more than halfway on your professional and personal journey is such a key aspect that not many companies can offer. This speaks volumes of what it is like to work for a start-up company.

Being an employee at HyperionDev has allowed me to create a balance between work and my personal life. All my contributions are noticeable. The team has a close working relationship, although it is virtually, we're always finding ways to connect!
What makes you feel PROUD to work for HyperionDev?

We have a core mission at HyperionDev and that is "to close the global tech skills gap by enabling education that is an accessible alternative to traditional university degrees" – Our Team truly stands for this and we work smart to maintain our core goal.

We celebrate our people, our students/clients and we are dedicated to making a change in the EdTech Sector. We work smart, we give back, we're optimistic, we produce quality products and services, we respect our business practices and therefore we are known as one of Southern Africa's Largest Tech Education Providers.

Go HyperionDev!
---
At HyperionDev, we're always looking for talented professionals to join our team. Whether you're a natural 'people person' with a flair for support and success, a passionate educator, or a project management pro, there's a place for you in our diverse and international team. As a HyperionDev employee, you'll enjoy more than just fulfilling and challenging work with a fast-growing, internationally scaling start-up – we provide medical insurance, extensive remote working allowances, a generous leave policy, and real avenues for career growth, experimentation, and promotion.
Do you think you could be our next star HyperionDev employee? Visit our career page to see all our available positions and apply to join our team today!